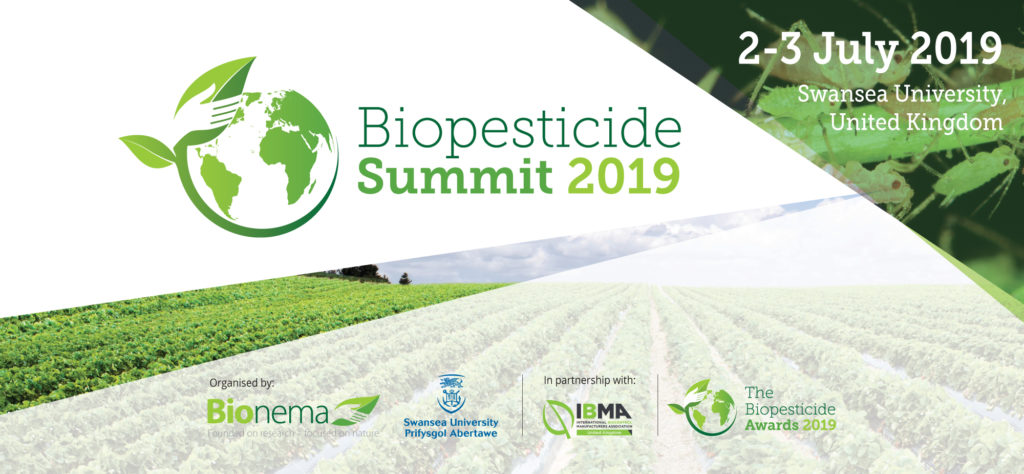 The world of plant protection is changing rapidly with many interesting new approaches entering the market. For this reason Bionema Limited and Swansea University are to host the inaugural Biopesticide Summit in July 2019. The organisers expect to address the pressing need to develop alternatives to chemical crop protection.
The Summit will also include the Biopesticide Awards which celebrate the achievement, excellence, and the contribution industry and research communities make to the biocontrol community.
The Biopesticide Summit 2019 will focus on developing and introducing innovative and alternative biocontrol solutions that will help protect our food chain in a controlled but timely manner.
The global biopesticides market is growing rapidly. It was worth approximately $3.36 billion in 2016 and is projected to reach $8.82 billion by 2022. However, despite significant growth in the biocontrol industry, major limitations with current biopesticide solutions are rarely discussed. There is an urgent need to develop novel products and application technologies to not only "fill the gaps" in the market due to pesticide removal but also to anticipate future requirements as pests and diseases are developing resistance to currently used chemical products. In additional, there is increasing consumer led retailer demand for growers to eradicate the use of chemical pesticides in crop production and to grow fruit and vegetables with reduced detectable residues.
One challenge particularly dear to our hearts at iFormulate is that of formulating biopesticides effectively. At the Summit, iFormulate's Dr David Calvert will discuss the increasing need to improve biopesticide performance through formulation science and technology. Formulation can bring benefits in terms of delivery mechanism, release profile and stability amongst other key properties. In his presentation, David will discuss will review the differences between biopesticides and conventional pesticide active ingredients and outline how these can lead to differing formulation strategies. He will also outline how formulation technology can be used to resolve some of the stability issues concerning the common microbial biopesticide, Bacillus thuringiensis (Bt)
You can find registration and other details on the Biopesticide Summit here.