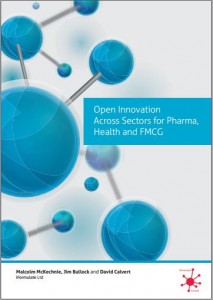 If you've ever considered looking outside your own organisation for new ideas to boost your R&D, or if you've thought about collaborative innovation activities then you've probably come across the principles of Open Innovation (OI). External partnerships can really help bring in new ideas, opportunities, technologies and understanding into your organisation. But what are the best ways of engaging in OI, what are the common pitfalls and how do you avoid them?
Well, together with iFormulate's Associate Partner, Malcolm McKechnie, we've written a White Paper which shows how you can gain maximum value from Open Innovation by taking a look outside your own sector in order to find new opportunities, new technologies and new partnerships. Formulation is a great area to take this approach because companies in pharmaceuticals, cosmetics, homecare, foods, agrochemicals, paints and inks are often faced with similar challenges and can make use of a common set of technologies.
To receive a copy of the iFormulate White Paper "Open Innovation Across Sectors for Pharma, Health and FMCG" then simply email us at info@iformulate.biz.