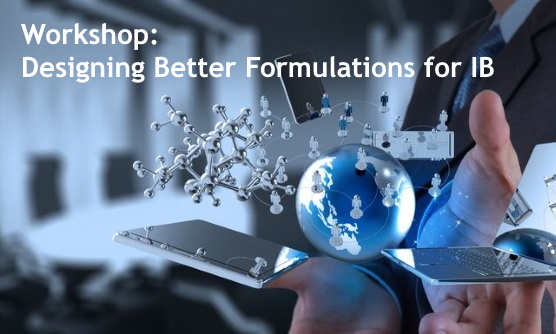 This event has taken place. Please e-mail info@iformulate.biz if you are interested in learning more about this topic.
Proper design of formulated products can:
Get your product to market more quickly;
Give you more robust products and processes – reducing the risk of rejects and complaints;
Reduce capital expenditure cost and risk;
Achieve better scale-up;
Reduce manufacturing and product/process development costs;
Improve relationships with customers and suppliers;
Help you design next generation products more effectively
This short interactive workshop – hosted by David Calvert and Jim Bullock of iFormulate – will give you a rapid introduction to good design principles for formulated products and will use an IB-based formulation as an example.
The workshop is free of charge but you must reserve a place in advance from this website. Places are limited so please ensure you get the "Booking Pending" email as well as the "Booking Approved" email. If you don't see these emails then please check your spam folder.
iFormulate reserves the right to charge a "no-show" fee of £50 plus VAT for workshop registrants who subsequently do not inform us that they will not be attending. Our general terms and conditions for cancellations and amendments to bookings can be found here.
For any enquiries, please email info@iformulate.biz.
Our policies on data protection, privacy and cookies can be found here. Additionally for this event we will share only anonymised and aggregated personal data with IBioIC. IBioIC wishes to use these data to plan future events, measure the impact of IBioIC20 and report this to IBioIC's boards and funding bodies (including Scottish Funding Council, Scottish Enterprise and Highlands & Islands Enterprise). IBioIC will not share the Information with any third party commercial entities.


We are pleased to announce that this workshop is being held as a fringe event to the Industrial Biotechnology Innovation Centre's annual conference. The conference brings together a unique mix of academia, biobased professionals and supporting organisations under one roof, to hear about and explore the potential opportunities for IB in Scotland as well as the global landscape of the industry. Widely recognised as the UK's premier industrial biotechnology event, attracting key players and influencers in the UK and global bioeconomy, attendees can expect to hear from leading experts from industry and academia, participate in partnering meetings, visit the exhibition and poster area, and enjoy unparalleled networking opportunities with new and existing contacts.
Further details on the IBioIC fringe programme can be found here.