This is a past event. For upcoming training on this subject, please go to the event web page.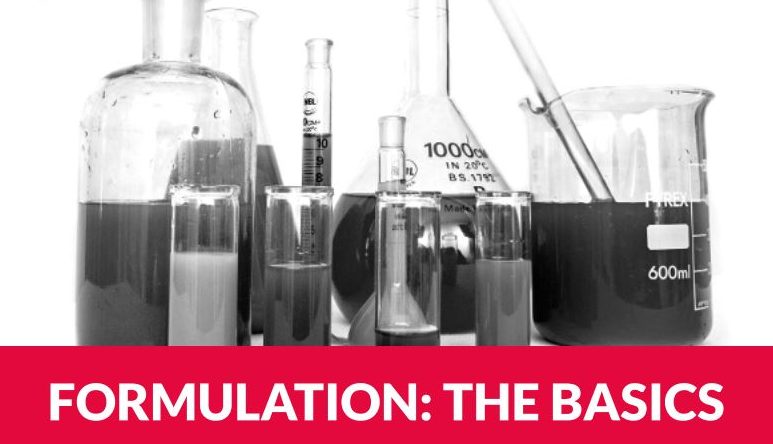 One-day course – Alderley Park, UK
Tuesday 24th September 2019
Formulation is an essential value-adding step in the development and manufacture of a huge number of chemical-using products. For example, medicines, cosmetics, toiletries, foods, detergents, cleaners, paints, inks, agrochemicals and adhesives are all formulated products. FORMULATION: THE BASICS is a one day introduction to formulation – what it is, where it is done, its benefits as well as why and how it is done.
FORMULATION: THE BASICS was sold out when it was first run in 2018 and we received overwhelmingly positive feedback from the delegates.
WHO IS IT FOR?
FORMULATION: THE BASICS is especially suited to:
Commercial, production, technical or administrative staff in any company involved in the formulation supply chain.
Newcomers to R&D and production functions such as technicians, process operatives, QC and administrative staff.
Students and academics from non-chemistry disciplines who are seeking an industrial context to formulation.
Some basic scientific understanding will be helpful but is not essential. A chemistry degree is not required!
OUTLINE PROGRAMME:
08:30 Registration
09:00 Introductions
09:15 Who Formulates What, and Why?
10:00 Formulation: Structure and Stability
10:45 Coffee
11:00 Ingredients and their Functions
11:45 Liquid Formulations: Essentials
12:30 Lunch
13:15 Solid Formulations: Essentials
14:00 Practical session
15:00 Making Formulations
15:20 Coffee
15:35 Measuring and Testing Formulations
15:55 Interactive team exercise
16:40 Wrap up
16:50 Close
COURSE FEES AND REGISTRATION:
£395 + VAT per person for registrations received after 23rd July 2019.
Our conditions for cancellations and amendments to events bookings can be found here.
Payment options:
We can invoice your organisation and registration will be confirmed once fees are received. Simply email full contact details to info@iformulate.biz.
Alternatively we can accept PayPal payments using the button below. You do not need to have a PayPal account, most credit cards can be used. You will then receive confirmation of registration.
Registrants will receive full joining instructions before the event.
Address: Alderley Park Conference Centre, Alderley Park, Congleton Road, Nether Alderley, Macclesfield, SK10 4TG, UK.
A map and directions can be found here.
ENQUIRIES:
For any enquiries e-mail: info@iformulate.biz