Two-day Training Workshop: 19th-20th September 2017
Jury's Inn Hotel, East Midlands Airport, UK
Note: This event has now taken place. Please contact info@iformulate.biz if you are interested in accessing course materials or future training on this topic.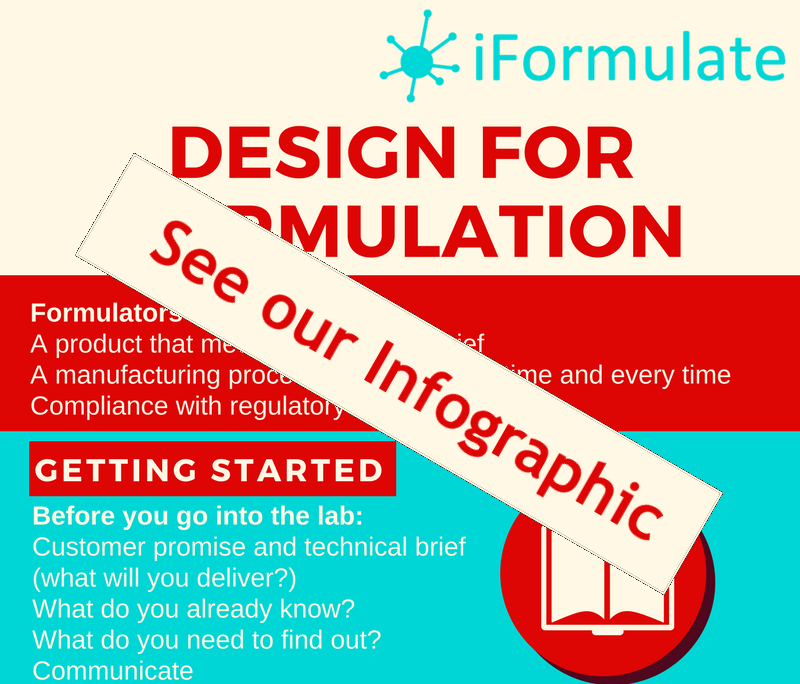 Proper design of formulated products – and of the processes used to make them – brings significant benefits to companies. Good design can:
Help to get your product to market more quickly;
Lead to more robust products and processes – reducing the risk of rejects and complaints;
Reduce the requirement and risk for capital expenditure at the manufacturing stage;
Help you achieve successful scale up from lab to plant;
Reduce your costs in manufacturing and product/process development;
Improve relationships with suppliers and customer;
Help you understand your formulation better – and help you design next generation products more effectively.
To help you with design for formulation, we've put together this training workshop.
Who Should Attend?
Those in a technical function (e.g. R&D, Quality, Process Development, Manufacturing) in any formulating industry (e.g. pharmaceuticals, home/personal care, agrochemicals, paints, inks, adhesives, lubricants, food etc);
Others involved in the new product development process (e.g. purchasing, marketing) who may become involved in product or process design for formulated products.
How Will You Benefit?
You will benefit from attending "Design for Formulation" by:
Understanding the linkage between the business functions involved in product and process design;
Being able to devise and implement a product design strategy before you go into the lab;
Gaining a basic understanding of the principles and practice of experimental design (DoE);
Gaining insights into the key considerations on taking a product or process into pilot scale;
Learning how to plan to ensure a process is robust and suitable for commercial manufacture;
Ensuring your product and process are future-proof, i.e. capable of being adapted to meet future requirements.
Download "Design for Formulation 2017" Course Flyer
You can also take a look at the recording of our short webinar from 2015 in which Ian Jolliffe introduces "Design for Formulation".
Workshop Programme:
Day 1: Principles, Laboratory and Pilot Scale
9.00 – 16.30
Team Exercise. Dr Ian Jolliffe and Dr David Calvert

Risk assessment
Experimental development strategy
Experimental plan

Reality Dawns: Development to pilot scale. Dr Ian Jolliffe

Process design and process stretch
Preliminary process qualification and test methods
Day 2: Scale-up, Manufacture and Realising the Benefits
9.00 – 16.30
Venue
Design for Formulation will be held at the Jury's Inn Hotel, East Midlands Airport, UK. The location is convenient for road (M1), mainline rail (East Midlands Parkway) and air (European and UK) connections. Further details on the venue and travel connections can be found here.
Pricing
Two-day training workshop – standard rate: £750+VAT per person
Registration and Further Information
Attendees will receive copies of all workshop materials on a USB memory stick. Lunch and refreshments will be provided for attendees but accommodation and other meals are not included.
Terms and conditions can be found here. If you have any further queries you please e-mail us at info@iformulate.biz.