How do you formulate nanoparticles into products?
18th June 2013, Manchester, UK
One-day training course held in partnership with, and immediately before, the international conference NanoFormulation 2013
Note: This event has now taken place. Please contact info@iformulate.biz if you are interested in future training on this topic.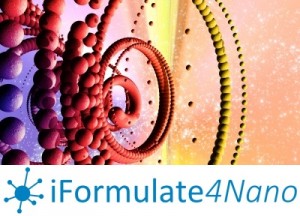 Why Attend iFormulate4Nano?
Would you like to demystify formulation with nanoparticles?
Do you want to know how to overcome stability challenges in nanoformulated products?
Do you want to understand the best ways to characterize nanoformulations?
Do you want to keep up to date with the latest safety and regulatory challenges associated with nanomaterials?
If so then iFormulate4Nano is the course for you.
The development of usable and optimal formulations is essential to ensure that nanoparticulates perform in the end application. Nanoparticles present particular challenges to the formulator in the areas of stability, characterisation and performance. This course is for the practical industrial scientist with an interest in nanoparticles and will enable him or her to formulate them more effectively.
Who Should Attend?
Formulate4Nano is suitable for industrial or academic scientists of graduate level and above from disciplines such as chemistry, chemical engineering, physics, materials science and pharmacy with an interest and involvement in nanotechnology but who have had relatively little exposure to formulation science and technology.
Course Content
The programme for iFormulate4Nano is shown belowThe course will start with an introduction to the basics of nanoparticles, how they are defined, why they are different, how they are made and where they are used. Following this there will be a session on stabilising nanodispersions and nanoemulsions which will include an insight into stabilisation theories and how to apply them. The course will include a workshop session where attendees will be able to work together on case studies. The next session will cover the main characterisation and measurement techniques which are essential tools for the development scientist. The course concludes with an overview of the essential toxicology, safety and regulatory factors which the product developer needs to take into account. Attendees will receive copies of all course materials in electronic format.
Location and Date
We are delighted to present iFormulate4Nano in partnership with the organisers of the prestigious international conference NanoFormulation 2013. This also takes place in Manchester and will start immediately following this course. The location for iFormulate4Nano is the brand new James Chadwick Building, the home of the Chemical Engineering department of the University of Manchester and we are pleased to acknowledge the support of the University in providing this venue.
Course Fees, Registration and Discounts.
Note: This event has now taken place. Please contact info@iformulate.biz if you are interested in future training on this topic.
Please note that places are strictly limited so early registration is advisable. Standard fees to attend iFormulate4Nano are £295 (+VAT) per attendee. A further discount of £20 is applicable to those who attend both NanoFormulation 2013 and iFormulate4Nano.
You can pay via invoice, BACS transfer, or via PayPal.
Programme – iFormulate4Nano 18th June 2013
9.15 Registration and Coffee
9.45 Introduction – Dr Jim Bullock (iFormulate)
10.00 Nanoparticles – The Basics. Dr David Calvert and Dr Jim Bullock (iFormulate). Definitions, differences, making particles fit for formulation and use
11.00 Coffee
11.15 Stabilising Nanoparticles in Formulations – Professor Ian Scowen (University of Bradford). Basic theory of stabilisation, surfactants and dispersants.
12.00 Further Stabilisation Approaches – Professor Steven Abbott (Steven Abbott TCNF Ltd). Stabilisation in micro/nanoemulsions and HLD-NAC theory, stabilization via Hansen solubility parameters, adhesion and integrity.
12.45 Workshop 1
13.15 Lunch
14.00 Workshop 2
14.30 Workshop Summary
14.40 Characterising nanoformulations. Prof Ian Scowen. Particle sizing, AFM, EM, rheology.
15.40 Nanoparticles: Toxicology, Safety and Regulations. Dr Jo Lloyd (Director, REACH Ready). Toxicology in nanodimensions, why might nano be a concern? Relevant "nano" regulations.
16.40 Close – refreshments

W: www.iformulate.biz E: info@iformulate.biz  www.formulation.org.uk/mnf13home.html
Image (top): Victor Habbick at FreeDigitalPhotos.net